I cut my finger before a Nutcracker show
What do you do when you slice your finger before a performance? 🔪 🩸 The show must go on!


TL;DR: Get your Tchaikovsky Nutcracker Overture
Violin Tutorial Below

and
PSA: Keep your knives sharp...
[Gore alert: this blog post may contain details that are disturbing!]
There's a juicer that is collecting dust in a corner of my kitchen.
Yup. A juicer.
As in juicing fruits and vegetables 🥕🍎🥬.
Ten years ago, I was on an enthusiastic experiment with juicing, smoothies, and raw vegan eating 🌱 🥗.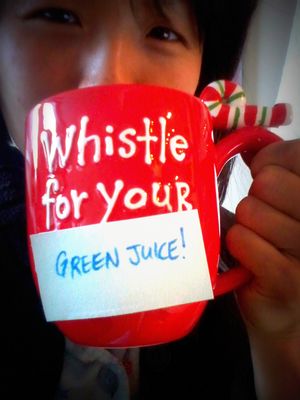 Back before juicing or bringing green smoothies to work was cool and trendy, I was toting wide-mouthed mason jars to work that were boasting all sorts of dubious colors.
"Eww, what is in that??"
would be a common commentary to my large, homemade drinks whipped out at intermissions. (Brown was the color that usually drew the looks of question.)
Being an early adopter of ultra-green, 'healthy' drinks, I'd like to think that I served as a trailblazer for the colleagues who now sport their trendy green juices and superfood smoothies to work.


Why Did I Eventually Stop My Smoothie/Juice Craze?
Well, it could be said that the 'knife accident' influenced the eventual demise of my juicing days.
Perhaps it would have made a juicier story if I had said it had threatened to end my playing career.
Sadly though, the 'knife accident' served neither of these dramatic roles in my life.
It did, however, did put me out of commission just 45 minutes before a Nutcracker show in 2011.
On a Sunday afternoon at 12:15pm before a 1:00pm matinee, I was hurriedly chopping up apples and greens to make a green juice for a colleague (who had recently been diagnosed with cancer).
Let this be your PSA of the day: always keep your knives sharp!
A Dull Knife is a Dangerous Knife
This bears repeating:
…A dull knife is a dangerous knife!
On a sunny December afternoon, picture a bright kitchen with a cold-press juicer poised for action and a large cutting board almost completely covered with leafy greens and chopped-up fruit.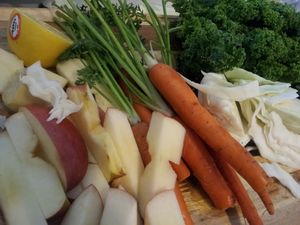 Trying to steady an apple slice on a bare corner of my cutting board, I was using an unconventional hand grip: a thumb and pinky pose that was precariously propping up the fruit.
Let's revisit:
A dull knife is more prone to slipping and skipping over your food… and ending up in places you don't want it to go! 😰
With just 45 minutes before downbeat in the orchestra pit and my juice not quite ready to bring to my colleague, my knife skidded over my fruit…
and landed in my flesh…
[Skip a few graphic details…]
My partner at the time helped me clean up the mess as well as calm my temporary panic as I called Ray, our personnel manager for the National Ballet of Canada Orchestra.
"Ray, I can't come in. I cut my finger!"
I could hear over the phone his initial alarmed reaction become one of renewed calm as he relayed the message: "Oh, she won't be able to play… but she's okay."
Okay, I eventually was, if not a little shaken up. 😰
After all, I had lost a chunk off the top of my pinky finger.
I quickly rushed to the cutting board before my partner could resume the chopping and juicing for me.
"Wait..!"
[Gore alert: I removed the piece of my finger from the cutting board and disposed of it for the juicing to continue...]
It took quite a long time to staunch the bleeding.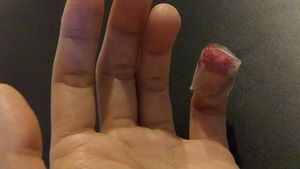 By the time the wound was stabilized and dry, I was able to inspect the damage: I believe that was the first (and only) time I have seen exposed nerves 😬…
While my colleagues churned out another Nutcracker performance that afternoon (we do a run of 25+ Nutcrackers every year), I spent the time instead on my computer writing a chapter of my doctoral dissertation - with a 'dainty teacup' 🤟hand pose of course.
Fast-forward two days: I was hired to play in an orchestral recording session (CTV News anchorman Lloyd Robertson was retiring and we were recording their new CTV News theme.)
I prepped for the session by arming my fingers with numerous layers of New Skin liquid bandage, Crazy Glue, and electrical tape.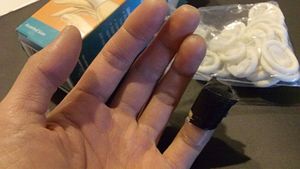 Thank goodness the session consisted of easy whole notes! (Third finger salvation!)


The evening Nutcracker show was another matter, however.
I spent my dinner break re-learning the Nutcracker Overture without a fourth finger.
I have since discovered that it is just about impossible to avoid the fourth finger altogether in The Nutcracker when playing the violin… and that playing on an exposed finger nerve, even one protected with a bandaid and electrical tape (in festive holiday red and green, of course), is excruciatingly painful! 😫😫😩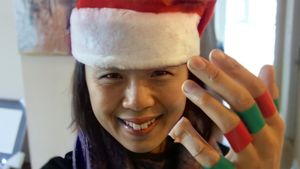 Nutcracker Overture Violin Tutorial
Fast forward ten years later, I've recorded a Nutcracker Overture violin tutorial - using standard fingerings that include all fingers.



Download my Nutcracker Overture fingerings here:
However, rest assured that should you too accidentally cut a finger before a Nutcracker performance, the principles I discuss in my tutorial will still be valid for all other fingers.


Catch up on Part 1 of my Nutcracker violin tutorial here.


Let me know how your practice goes and if these tips are helpful by sharing this post and leaving a comment on Facebook or Instagram!

If you'd like to know how to work privately with me, book a free call with me on my calendar.
Categories: National Ballet of Canada Orchestra, Violynn Tales