Kréddle Chin Rest Unboxing & Review
Here's my Kréddle Chin Rest Unboxing & Review
Kréddle Chin Rest Unboxing & Review
One of the most popular questions I see online is:
What shoulder rest should I be using as a violinist?
The surprising answer:
The shoulder rest is secondary to the chin rest.
Before you experiment with your shoulder rest, it's never a bad idea to first look at your chin rest.


Why Get a Custom Chin Rest?
After interviewing my friend and colleague, Jennifer Johnson, in Episode #2 of my Violynn Chats series (Preventing Pain and Injury, I discovered the importance of addressing the chin rest as part of your violin setup.)
Jennifer Johnson, who is the author of What Every Violinist Needs to Know About the Body as well as Musician, Heal Thyself: Free Your Shoulder Region through Body Mapping shared her expertise on what to do when wanting to experiment with your violin setup.
Jennifer's answer?
The shoulder rest is not as important as first looking at your chin rest.
As I was unable to get a custom chin rest during the pandemic, I was excited to get the next best thing to a custom-made chin rest: the customizable Kréddle Violin Chin Rest.


Let's take a look at some of my Kréddle chin rest tips and discoveries:

What Comes with the Kréddle Chin Rest?

Inside the box, the Kréddle chin rest comes with:
Two snap-on chin plates (each with a different post height)
A base clamp and bracket, which allows for 5-axis adjustment: 360 degrees lateral adjustment, 360 degrees rotation, tilt, pitch, height). [Note: I elected to pay extra for the stainless steel bracket in order to avoid skin irritation from the nickel plating of the other bracket.]
3 posts of differing heights
A hex key, for loosening and tightening the screws for each moving component - [Pro tip: Get an extra hex key in case you misplace it!]
Bracket-tightening tool

Center-Mounted or Side-Mounted?
I chose the side-mounted Kréddle chin rest as I was advised that it had more flexibility to simulate either a center-mounted or side-mounted chin rest. Having used a center-mounted Flesch chin rest for two decades, I was not disappointed as it was indeed easy to position the chin rest so that it felt like a center-mounted chin rest.


What Does the Material Feel Like?
The chin plate's material is quite smooth and has a very pleasant and tacky texture. Being plastic, I thought that it would cause me to perspire, however, I was pleasantly surprised that this wasn't a problem.

The Importance of Adding Height
Raising the height of your shoulder rest causes the instrument to be positioned quite high in relation to your bowing arm, something that could impact technique and/or cause future injury.

In order to build up height to compensate for a longer neck, first consider adjusting the height of the chin rest.
As I was assembling the Kréddle chin rest and adjusting its height using the posts and chin plates, I aimed to "fill in the space" between my collarbone and neck. (Read on to the end to find out the results of my experiments.)


8 Days Later with the Kréddle Chin Rest:
During the eight days of getting accustomed to the Kréddle chin rest, I also removed my shoulder rest (which is a copy of a Voigt).
Unfortunately, I began to experience quite a bit of neck stiffness (perhaps due to the fact that I had actually set the height too high.)

I hoped that the Kréddle chin rest would help keep my neck relaxed and that the additional height would fill up the gap between the collarbone and jaw.

Without the shoulder rest, however, I didn't always feel confident that the instrument might not slip off of my shoulder. (And that has happened to me before! You can read the story here: The Day My Violin Broke Into Two Pieces. The Day My Violin Broke Into Two Pieces.)
When I did add my shoulder rest, I was more confident that my instrument wouldn't slip, but admittedly, with the added height of the chin rest, I felt uncomfortable playing in high positions: my shoulder and chest region felt 'blocked' from assisting me getting to the higher positions.


How Does the Chin Rest Affect the Sound?
I have been told that if you position the chin rest as side-mounted instead of center-mounted, it may compress some of the lower registers of the instrument. I can't say that I noticed a big difference.


My Violin Setup One Year Later:
A year later after experimenting with the Kréddle chin rest... I did not decide to continue with it. 😅


After experiencing neck tension and stiffness (admittedly, not uncommon when you change your setup), I decided to go back to my old Flesch chin rest because it was familiar and I couldn't afford to be uncomfortable right before performing in my upcoming recital.
Fast-forward a year later to October 2021: on a trip to Montreal to record Canadian composer Yves Daoust's piece for violin, accordion, and electronics with Canadian accordionist Joseph Petric, I visited chin rest maker Peter Purich's workshop.
Peter helped me assess my setup and playing, and guided me through his vast array of handmade chin rests.
The chin rest Peter helped me select not only is beautiful and matches the varnish of my Postiglione violin but it provides me with more surface area for my jaw and feels immediately comfortable.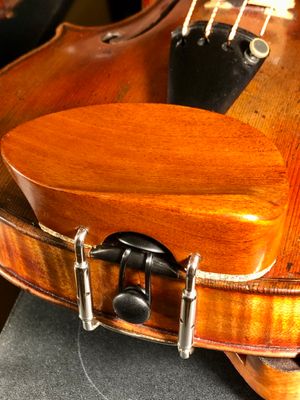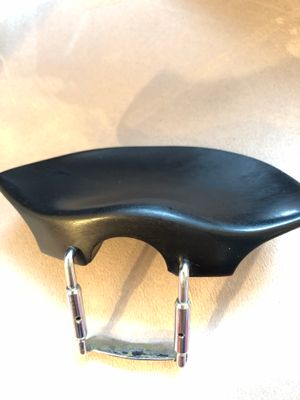 As Peter has helped me understand, my Flesch chin rest also had plenty of surface area but did not have enough of a dip/cup, a cradle for my jaw.
And as he also pointed out, the steep, flared angle of the Flesch chin rest caused my jaw to slip out and away from my violin.
With Peter's chin rest, there's comparatively more of a cradle/hook (albeit subtle) that helps me grab and hug my instrument, making it more comfortable for me to play.



Shoulder Rest Experimentation
At Peter's workshop, I also experimented with his foam shoulder pads, which he made in varying heights to assist people in their transition to using no shoulder rest.
While extremely comfortable, the foam shoulder pads actually served to dampen my instrument's sound, something I didn't want.
So, I continue to use my Voigt shoulder rest copy. (Watch me as I perform elastic band maintenance on my shoulder rest.)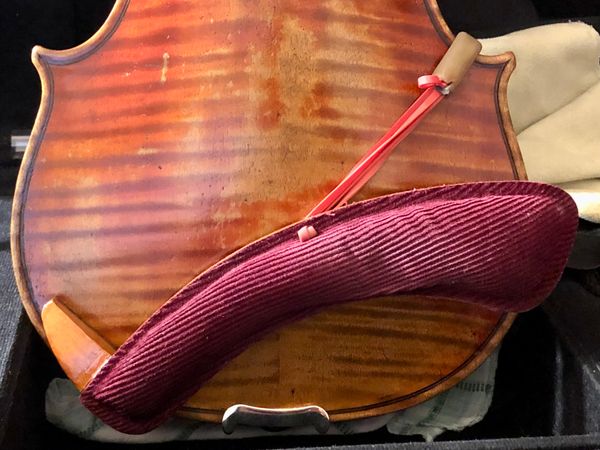 While the Kréddle chin rest did not work for me in this trial, there's nothing saying that I wouldn't go back and do another trial down the road, this time experimenting with lower post heights and re-training myself to avoid gripping the instrument between my jaw and collar bone.
Good luck in your chin rest (and shoulder rest) experimentation!


Let me know how your practice goes and if these chin rest and shoulder rest tips are helpful by sharing this post and leaving a comment on Facebook or Instagram!

If you'd like to know how to work privately with me, book a free call with me on my calendar.
Categories: Chin Rest, Shoulder Rest, Violynn Tales